Mr. Loay Jassim Al-Kharafi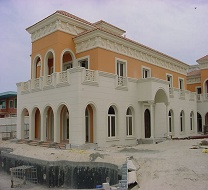 Mr. Loay Jassim Al Kharafi, a renowned lawyer, graduated from Kuwait University and studied at Miami University in USA for arranging and administrating commercial works. He is the son of Jassem Al Kharafi, a well established leading politician and a speaker of the Kuwait' parliament for several rounds. He is a member of Kuwaiti Lawyers Association. He gradually progressed in work with in various sections and undertook administrative roles in a number of companies. He participated in several local and International Conferences. He had worked in the legal department Mohammed Abdul Mohsen Al-Kharafi and Sons Company till opening the office officially 1992. Presently he is the Head of Construction Sector for Al-Kharafi Group of Companies. He owns a private law office in Kuwait, which also cooperate with other legal offices in the Gulf countries, Egypt, Europe and United States of America.

Alamiah has carried out various projects for this important client villas, chalets...etc. The Chalets at Kheiran was design & build precast skeleton chalets and finished with GFRC external decoration including landscaping, boundary wall etc.