Kuwait Flour Mills & Bakeries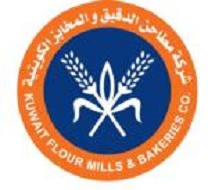 KUWAIT FLOUR MILLS & BAKERIES CO. S.A.K. is a premier establishment in food Industry in the State of Kuwait. It is a primary source for most of food industries and food Distributors in Kuwait.

Kuwait was importing all it's needs of wheat flour from the International market. The cost of flour was increasing and also the shipments were exposed to bad climatic and storage condition during shipment thus prone to high incidents of damage and bad quality.

The idea of establishing Kuwait's own Flour Mills was a natural conclusion. Established in 1961 under the name of "Kuwait Flour Mills Company", focused to expand it's interests in specialized food products and introduced several products to the market under it's own Brand names at affordable prices, which now has become part of every day life of general public in Kuwait.

The industrial activity of the company started in 1965 with the production of flour. Further expansion followed in specialized fields of food industry. Establishing an integrated complex near Shuwaikh Port, beginning with installing wheat-discharging equipment - to pump wheat from the ship in the port directly to silos - modern automatic wheat mills with packaging and storage of the sacks and advanced equipment to load into transport vehicles for delivery.

In 1969, Macaroni and vermicelli factory was set up - 1970 saw the establishment of Biscuit factory, and in 1976 it's Vegetable oil factory came into being. In 1978 in order to meet the increasing demand for quality Arabic bread, a sister Company was set up under the banner of 'Kuwait Bakeries Company' - which later in 1988 was merged with the parent Company, thus emerging " Kuwait Flour Mills& Bakeries Company".

Kuwait Bakeries Company during it's 10 years tenure - set up 8 automatic bakeries for the Production of Arabic Bread, conveniently distributed at different geographical locations in Kuwait. Also during this time to crown it all, a most modern automatic European bread factory was set up at Sabhan.

This Factory is considered as one of the largest and most modern in the Arabian Gulf - Middle East area, and also one of the most sophisticated - inviting the attention and praise of international food companies and franchises who have been sourcing their products from this factory. The products are White & brown European Bread, Hamburger Buns/Hot Dog buns/ Soft Rolls-hard rolls etc.

Kuwait Supply Company which was an arm of Ministry of commerce & Industry for the distribution of essential provisions to the citizens, was merged with Kuwait Flour Mills & Bakeries Company in 1994. The newly merged Company is now engaged in procurement, storage and distribution of strategic foods like rice, milk powder, pulses, sugar etc.

In 1996 a modern concentrated animal Feed plant was commissioned - and sees to the distribution of animal feeds to help the farmers in Kuwait. Studies are under way with still ambitious plans to add new facilities in the company to enhance the services for the consumers.

Kuwait Flour Mills & Bakeries Company has emerged as a most prominent and dominates food industry in Kuwait with the dedicated and service minded employees and management to whom we owe our success.

Being one of the important clients, Alamiah Building Company was responsible for Construction, Completion and Maintenance of Multi-Storeyed Car Park and Offices Buildings for Kuwait Flour Mills & Bakeries, worth KD 820,000.000.