Kuwait University Car Park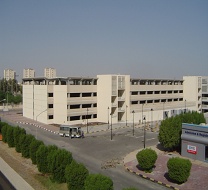 Contract No.: KUCP-MPA/T-01/02-03
Client: Kuwait University (Major Projects Administration), Kuwait
Client's Representative: Kuwait University Construction Program (KUCP), Kuwait
Project Management: Turner Projacs, Kuwait
Consultant : The Asociated Engineering Parternership (TAEP), Kuwait
Main Contractor: M/s. Alamiah Building Co. KSCC, Kuwait
Project Title: Design, Construction, Completion & Maintenance of the Multi-Storey Car Park at Kuwait University Shuwaikh (Phase-1)
Project Value: KD 3,400,098/-

The Project is situated within the University Campus located in Shuwaikh. The area of site is approx. 32,000m2. The multi level parking building comprises a four storey (three floor + roof level with shelter) reinforced concrete framed building. the overall footprint size of the building is 23,068 m2 (x 13.40m high), which accommodates 2307 cars (38 for handicapped).

The structural system consists of reinforced and precast concrete elements. External cladding comprises of textured precast concrete panels. Finishes to the car parking area consist of a fair face finish to the concrete elements. Interior finishes to the toilet and office areas off the elevator and staircase towers include fair face concrete, painted plastered walls and ceramic tiling.

Plumbing systems are consistent with the requirements of a building of this nature and include cold water, hot water, drainage and rainwater systems.

Fire protection systems incorporated include automatic sprinklers and a hose reel and extinguisher system, as per the discussions and directions from the Kuwait Fire Brigade.

Electrical systems have been incorporated which are inconsistent with the requirements of the building. These include power supply and lighting and earthing systems all in accordance with MEW and international regulations.

Vertical transportation in the building is provided by eight passenger Elevators.

Externally, the landscaping provides for ground cover, trees, plants and walkways with colour pavement.

The access road within the site area is of asphalt with precast concrete road kerbs. Surface and roof top rainwater is discharges outside the site boundary by a storm water drainage system & sewage will be discharged into the Campus Drainage Line.