Alamiah's Headquarters at Amghara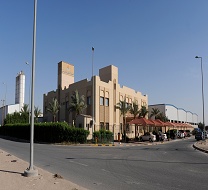 Project Title: New Administration Building
Project Location: Alamiah's Factory Premises, Amghara
Designers: Al-Farooqi International Consultants & Muneera Consultants, Kuwait.
Main Contractor : M/s. Alamiah Building Co. KSCC

On a total built-up area of 2057m2, this project mainly comprises of Civil works (mainly Precast and GRC works) carried out by Alamiah itself, in addition to other services like electrical, plumbing, fire fighting, HVAC, elevator, false ceiling works and access control systems for basement car park.

The Administration Building comprises of Basement, Ground Floor, First Floor and Roof.
Basement comprises of car parks for approx. 30 cars, toilets, Mosque, Storage Area...etc.
Ground Floor consists of Reception, Offices, Kitchen, Toilets and Archives.
First Floor consists of Offices, Kitchen, Archives and Toilets.
A Heavy Duty Passenger Elevator is provided to transport people and goods on all the three floors.
External Shaded Car Parks are provided in front of the Administration Building for visitors.
This building has centralised air-conditioning and heating facilities.