National Assembly Buildings for Members and Information Center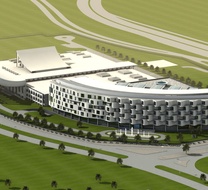 Contract No.: SPA/116
Contract Title: National Assembly Buildings for Members and the Information Centre.
Contract Value: KD 29,877,000/-
Client: Ministry of Public Works, Kuwait
Designer: M/s. HOK International
Consultant: M/s. Seif Engineering Consultants
Main Contractor: M/s. Alamiah Building Co. KSCC, Kuwait

This is a prestigious project for the Construction, Completion, Commissioning and Maintenance of National Assembly Buildings. These new facilities present a unique opportunity to built new buildings that embody the objectives, goals and aspiration of the people and the State of Kuwait.

Interior design of the refreshment of National Assembly is very successful, design that provides a classic modern statement in an Islamic and Arabic cultural context.

Due to the growing Number of National Assembly employees and the need for new home for the Information Centre, Two new buildings are required. These buildings are located in the existing National Assembly's site in Kuwait.

Required are:

a) A New Members Office Building housing 75 members, their staff and other support
which numbers 375. The gross building area is 15,540m2.

b) A New Building for the Information Centre is to house 158 staff in a gross building
area of 6,433m2.

c) A New Civil Defense Shelter (C4 class) with capacity to accommodate the total
occupancy of the new buildings plus additional 10% is provided in a new structure of 6,000m2.

d) A re-development of the existing site to accommodate various the parking
requirements, new internal road circulation and new landscaping.
The total area is approximately 11,000m2.