Sabah Al-Ahmed City - Neighborhood (C)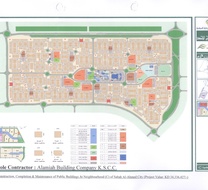 Contract No.: 1184/2011-2012
Client: Public Authority For Housing Welfare, Kuwait
Consultant: M/s. Dar Al-Duaila Consultants, Kuwait
Main Contractor: M/s. Alamiah Building Company KSCC, Kuwait
Project Name: Construction, Completion and Maintenance of Public Buildings At Neighborhood (C) of Sabah Al-Ahmed City
Contract Value : KD 34,053,227.672
Duration: 730 days.

The project comprises of construction, completion and maintenance of various public buildings at Neighbourhood (C) of Sabah Al-Ahmed City at Wafra, Kuwait, which includes 2 Nos. Kindergartens, 2 Primary Schools, 2 Intermediate Schools, 1 No. Higher Secondary School, Super Market, Grand Mosque with Imam's accommodation, Offices, 1 No. Major Mosque, Social Development, Social Unit, Municipality Building, Police Station, Cooking Gas Godown, Water Filling Station, Clinic, 3 Groups of Shops and 18 Small Mosques.