Bayan Palace (Phase II) - Fitness Centre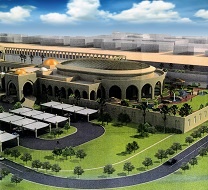 The Ministry of Public Works (MPW) sought to build the Fitness Center for the use of dignitaries visiting Kuwait and residing at the Bayan Guest Palace. The purpose of this Center is to provide the visiting dignitaries with a healthy living and a luxury SPA destination to retreat to for relaxation during their stay in Kuwait.

The Fitness Center is linked to the Guest Palace through a connecting Liwan situated adjacent to the Head of State Quarter. This provides an easy and flexible secured access to the dignitaries and their staff/escorts to transfer to the Fitness Center from the Guest Palace. The Fitness Center is conveniently located at the same level of the Guest Palace, ground floor.

The Fitness Center consists of two levels as described below:

Ground Level which includes most of the gymnastics for physical fitness, a spa facility with Turkish bath, swimming pool with all ancillary services and a living accommodation for visiting dignitaries. Each part of the center has a full changing facility for the Head of State as well as his Entourage.

Basement includes a squash court, men's hair dressing area, ladies hair dressing area and a doctor's office. In addition, the basement includes full changing facilities for at least 50 persons accompanying any visiting delegates.

External Landscape is designed to accommodate a tennis court, a badminton court and a mini golf along with external resting areas with pavilions and reflecting pool and water features.
Contract No.: SPA/158
Project Title: Bayan Palace Phase-II (Fitness Center)
Client: Ministry of Public Works
Consultant: SSH International
Main Contractor: Alamiah Building Co. KSCC
Contract Value: KD 14,235,749.666