Roads & Infrastructure Works for Special Forces Facility Project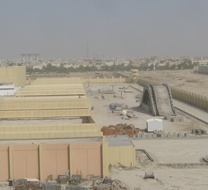 Contract No.: SPA/30
Project Title: Roads and Infrastructure works for the Special Forces Facility Project
Project Location: Adjacent to Central Prision - Sulaibiya. Surrounded by Fifth Ring Road, Khalaf Al-Ahmar Street, Sulaibiya Industrial Street & Sulaibiya Road.
Client : Ministry of Public Works, Kuwait.
Consultant : M/s. Dar Al Handasah Consultants, Kuwait.
Main Contractor: M/s. Alamiah Building Co. KSCC
Project Value : KD 57,741,880/-

The project comprises of construction and maintenance of roads and infrastructure works for various buildings in the Special Forces Facility Project at Sulaibiya, Kuwait.