360° Mall - Kuwait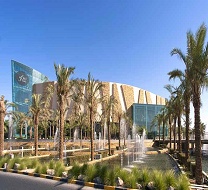 Project Title: Construction, completion and maintenance of 360° Mall & Cinema in Kuwait
Client: Tamdeen Shopping Centre Development Company (K.S.C.C)
Consultant: Oha Engineering Consultant, Kuwait
Main Contractor: Ahmadiah Contracting & Trading Co.
Subcontractor: Alamiah Building Co. KSCC
Subcontractor Scope: Precast & Hollow Core Works
Subcontract Value: KD 1,186,170.072
Completion Year: 2007

Alamiah was awarded the subcontract for design, fabrication, supply and installation of precast DT slabs and Hollow Core Slabs for 360° Mall (Old Drive-In Cinema), Al Zahra Area (South Surra), Off The 6th Ring Road, Kuwait.

Brief

360° Mall is a truly unique shopping destination developed at the intersection of the King Faisal Highway and the 6th Ring Road. Strategically located in a busy and rapidly growing residential area, the retail and entertainment development provides a valuable addition to the local community as well as visitors from further afield.

The circular design of the mall creates a shopping area of over 82,000m2, with its superb architecture that has been inspired by a modern day interpretation of the tradition of navigating by the stars and by the region's class Arabic architectural features the Mall provides the most engaging shopping and leisure experiences in Kuwait.

A hypermarket, two department stores and fabulous leisure and entertainment arenas are just some of its major attractions. 360 Mall is truly an exciting and unique destination where shopping, entertainment and leisure components are synonymous with sophistications, elegance and unsurpassed style and luxury. The Mall showcases the best of international, regional and local retailers to create a delightful and special experience for visitors of all ages.