A7/12 Pumping Station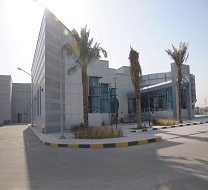 Project Title: MPW Contract No. SE/34 - Design, Construction, Operation, Maintenance & Renovation of Sanitary Drainage Network in Kuwait Phase III - Part (B1), Shuwaikh Industrial & Hospital Areas and Construction of Pump Station A7 and Related Tunnels
Client: Ministry of Public Works (MPW), Kuwait
Consultant: Gulf Consult, Kuwait
Main Contractor: M.A. Al-Kharafi & Sons, Kuwait
Subcontractor: Alamiah Building Co. KSCC
Subcontract Scope: Precast Works
Subcontract Value: KD 77,000.000
Completion Year : 2007

Alamiah was awarded the subcontract for supply and installation of precast boundary wall for MPW Contract No. SE34 i.e., design, construct, operation and maintain network of secondary and main interceptors, New Pumpin Station A7 and associated tunnels.