Ali Al Sabah Military Academy - Al Mutla'a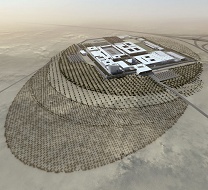 Project Title: Ali Al Sabah Military Academy at Al-Mutla'a, Kuwait
Client: Ministry of Defense, Kuwait

Ali Al Sabah Military Academy is proposed to be constructed over an area of approx. 3.5 sq.km. at Al-Mutla'a in Kuwait. The academy comprises a major com­plex of buildings set amongst extensive areas of open space, in an area of open desert. It comprises of academic and residential facilities for 1200 cadets with external training & sports facilities. This Academy has various facilities such as hall and theatre, buildings for military and academic studies, dormitories, restaurants and clubs, petrol station, battalion mock village, vehicle and general maintenance, sewage treatment plant and water storage tanks, extensive parade grounds, shooting range, football stadium, olympic swimming pool as well as all supporting infrastructure, parking and guard towers.

The new facility will exemplify state of the art training facilities worldwide, by creating a structure that synthesizes training program demands with site and environmental constraints in a way that benefits both the Institution and the People of Kuwait.