Basra Sports City Stadium - Iraq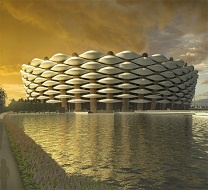 Project Title: Sports City in Basra Phase 1 - Main Stadium (IRAQ)
Client: Ministry of Youth & Sports, Baghdad, Iraq.
Consultant: 360° Architecture Inc, USA
Contractor: Abdullah A. Al Jiburi Contracting Co., Jordan
Subcontractor: Alamiah Building Co. KSCC, Kuwait
Subcontract Value: KD 2,102,217.000
Subcontract Scope: Precast & Prestressed Hollow Core Works
Completion Year: 2011

Alamiah was awarded the subcontract works for design, manufacture and supply of precast prestressed concrete elements for Main Stadium in Basra Sports City (Phase-1) Iraq. The works comprised of the supply (Ex-Factory) of precast seating, prestressed hollow core slabs, racker beams, precast beams, precast walls and miscellaneous precast elements.

The overall project comprises of a Main Stadium (capacity of 65,000 spectators), which is surrounded by a man-made lake in the shape of Iraq. The first phase also includes a Secondary Stadium (capacity of 10,000 spectators), 4 Training Soccer Fields (capacity of 400 spectators), 8 Athletic Buildings (6 floors each) Apartments & SPA Building, VIP Rest House, Fire Station, Media Building, Sewage Treatment Plant, Water Reservoir, Service Buildings, Helipad and Parking Space (10,000 cars) among other facilities and infrastructure.