Kuwait Business Town - Zone 1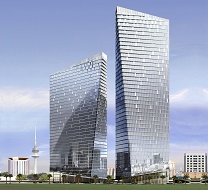 Project Title: Construction, completion and maintenance of Kuwait Business Town Zone-1 at Sharq, Kuwait
Client: Kuwait Business Town Real Estate Company, Kuwait
Consultant: KEO International Consultants
Main Contractor: First United General Trading & Contracting Co. WLL
Subcontractor: Alamiah Building Co. KSCC
Subcontract Scope: Post-Tension Works
Subcontract Value: KD 222,000.000
Completion Year: 2009

Alamiah was awarded the subcontract for supply, installation and supervison of post-tensioning works for Towers 5 & 6 of Kuwait Business Town Zone-1 in Sharq, Kuwait.

Brief

The KBT Towers forms a well-developed Business district in Kuwait that serves banking, Insurance, Real Estate and many other Commercial Sectors. Out of the six soaring high-rise business towers the iconic 2 Towers which lead the flagship project are under the Kuwait Business Town Real Estate Development Company.

Commonly known as Tower 5 and Tower 6; KBT towers introduces an environment that enhances the corporate lifestyle.

Tower 5: Is equipped with the latest technologies to ensure practicality and security in all aspects. The towers grand lobby situated in the ground floor measuring 80 meters is a common use area. 8 lifts in the towers ensures rapid and effective circulation. The office spaces including the numerous meeting rooms enabled with high-end technology cater to conferences and meetings of all sizes. Interiors for the offices and conference rooms are designed aesthetically with durable material keeping the business users in mind. This is the tallest tower of Kuwait business town rising up to 39th floors and along with Tower 6 it will become iconic to KBT.

Tower 6: Like Tower 5, the tower is equipped with built in technologies to facilitate all business transactions within KBT. This tower is equipped with 10 lifts, a grand lobby measuring 120 meters for common use, soars high to 34 floors and has meeting rooms ranging in different shapes and sizes.

In addition to this, each other tower has at least 2 parking levels equipped with security cameras and accommodates sufficient parking for KBT employees as well as visitors.