Sharq Waterfront - Kuwait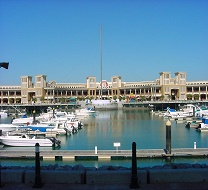 Client: National Real Estate Company, Kuwait
Main Contractor: Ahmadiah Contracting & Trading Co. Kuwait
Subcontractor: Alamiah Building Co. KSCC, Kuwait
Subcontract Scope: GRC Works
Subcontract Value: KD 1,000,000.000
Subcontract Duration: 1 Year

Alamiah was awarded the subcontract for the GRC works for the WaterFront at Souq Sharq, Kuwait.

Since its opening in 1998 under the patronage of the late Amir Sheikh Jaber Al Ahmed Al Sabah, Souq Sharq Waterfront Project has set the standard of excellence that all commercial centers in Kuwait are measured by.

The project's architecture was designed with a traditional touch that preserves the authentic local character, and has become a modern space with a unique flavor. The magnificence of the project is composed of three main elements; the shopping center, the historical fish market, and the waterfront.

The shopping mall, Souq Sharq, is the attraction factor of the project and was designed in a unique way using traditional Arabic architectural elements to reflect the regional culture and to establish a monument of civilization. In contrast, the shopping mall contains a large number of fashion outlets, trademarks, restaurants, coffee shops, and modern cinemas.

The fish market is considered a modern facility from an engineering point of view that is consistent with the 21st century. It is located in the vicinity of Souq Sharq on 800 square meters of land. It is also considered the most famous fish market in Kuwait, and reflects the traditional fishing culture of old Kuwait, rendering it the most visited location of its kind. In addition, the fish market is a major shopping center for the city's residents along with visitors from neighboring countries. The fish market includes other commercial activities such as selling meat, poultry, vegetables and organic foods.

Extended over an area of 2,400m2, the waterfront plays a dual role in the market. It is very close to the main fishing sites, thus it functions as a modern waterfront for harboring boats and fishing vessels in addition to accommodating 365 private yacht docks. The waterfront is equipped with highly developed systems to support its operations.