Souk Al-Salmiah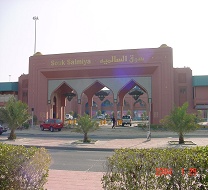 Project Title: Construction and Completion of New Super Market at Salmiya
Client: Nour Real Estate Co.
Consultant: OHA Engineering Consultants
Construction Manager: Projacs, Kuwait
Subcontractor: Alamiah Building Co. KSCC
Subcontract Scope: GFRC & GRC works

Alamiah was awarded the contract for carrying out the external and internal decoration GFRC and GRC works for the New Super Market at Salmiya for M/s. Nouf Real Estate Co. Kuwait. This project is built on a total plot area of 83245m2. The building comprises of two floors. The ground floor has a total area of 39,580m2, whereas the first floor occupies an area of 31,787m2.

Souk Al-Salmiah Project is located in Hawally Province, in the area of Al-Salmiya, Block No. 8, next to the Passports Roundabout, at the intersection of Al-Khansa' Street and Qatar Street. It is surrounded by the areas of Al-Salmiya, Al-Rumaithia and Al-Bade'.

Souk Al-Salmiah Project comprises a mosque, a prayer room for men and a prayer room for women on the first floor inside the Market. It comprises offices having an area of 500m2, for usage by the government and ministerial bodies. It also comprises green spaces having an area of 12,500m2 for landscape gardening to improve the aesthetics of the project. It comprises of 1000 parking lots. It comprises of three skylights, each having an area of 1600m2 and a glass dome. They have been given Kuwaiti heritage names such as Kubbar Sky Light, Failka Sky Light & Bubyan Sky Light. The Project also comprises of 72 toilets, 12 of which are for the handicapped, 24 for women and 36 for men. It also comprises of 12 elevators distributed among all the gates. Each gate comprises of 2 elevators and the Mall contain 5 escalators.

Souk Al-Salmiah is considered a symbol of the extensive construction activities currently witnessed by Kuwait in many fields, mainly in architecture and building, from houses, residential and administrative towers and public buildings, down to commercial markets, roads, bridges, gardens and public parks.

It is considered the largest commercial market in Kuwait in terms of area, diversity of activities and multiplicity of services, the most beautiful in terms of color matching and exploitation of landscape, in terms of harmony between heritage and modernity in all the Market sections, and in terms of the provision of all services in such integrated manner that is regarded as a cultural precedent and an example to be followed when designing markets in the era of advanced technologies, inspired by luxury and elegance from Islamic history.

It reflects the beauty and authenticity of the past as well as the creativity and modernity of the present, while preserving the Arab and Islamic style, through Arab and Islamic carving. It is a market for the entire family where all needs can be found under one roof, at very affordable prices to all social classes.

In addition to its commercial activity that aims at contributing to the stimulation of the economy, Souk Al-Salmiah is considered a prominent architectural symbol that reflects the insistence of Kuwaitis on ranking first in architecture and excelling in planning, organization and coordination, which would achieve distinction for Kuwait as a commercial center in the region.

This large project meets the needs of the citizens and residents of the State of Kuwait, especially in the Hawally province. It is surrounded on all sides by densely populated residential areas such as Salmiya, Rumaithia, Bade', Salwa, Hawally, Jabiria, Sarra, Bayan, Meshref and Sabah Al-Salem Suburb. It is called the Fish, Meat and Vegetables Market in Hawally Province.

The design and performance were carried out in such manner as to preserve the Arab and Islamic style, through Arab and Islamic carving. The project comprises 6 main gates (Derwaza's) as entrances to the Market. Each gate bears the name of a gate of the ancient Wall of Kuwait, namely (Derwaza Al-Shamiya, Derwaza Al-Jahrah, Derwaza Al- Maqsab, Derwaza Al-Sheab and Derwaza Dasman). The sixth Derwaza was called (Derwaza Al-Tahrir) which means The Liberation Gate. A brief outline of each gate and the reason behind its name are written thereon, so that the future generations would become acquainted with the ancient and recent history of Kuwait.