Kuwait University Car Park at Shuwaikh Campus (Phase-1)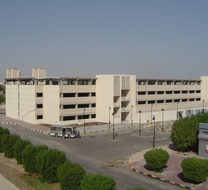 Contract No.: KUCP-MPA/T-01/02-03
Client: Kuwait University (Major Projects Administration), Kuwait
Client's Representative: Kuwait University Construction Program (KUCP), Kuwait
Project Management: Turner Projacs, Kuwait
Consultant : The Asociated Engineering Parternership (TAEP), Kuwait
Main Contractor: M/s. Alamiah Building Co. KSCC, Kuwait
Project Title: Design, Construction, Completion & Maintenance of the Multi-Storey Car Park at Kuwait University Shuwaikh (Phase-1)
Project Value: KD 3,400,098/-

The Project is situated within the University Campus located in Shuwaikh. The area of site is approx. 32,000m2. The multi level parking building comprises a four storey (three floor + roof level with shelter) reinforced concrete framed building. the overall footprint size of the building is 23,068 m2 (x 13.40m high), which accommodates 2307 cars (38 for handicapped).