GRC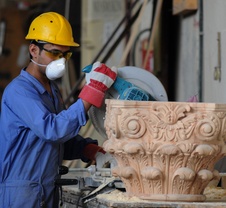 Established since 1992, the GRC Factory of Alamiah Building Company has been responding to different architectural requirements of various important projects in Kuwait, either newly constructed or renovation of the old buildings, which require design & fabrication of many complicated, patterned, architectural & decorative details, that are not possible to carry out by precast concrete, or by any of the methods of construction usually practiced.

The GRC Factory also fulfills the demands of the civil works such as sewage system, road noise barriers, backing material for natural cut-stone, brick, ceramic and architectural terra-cotta.

Since the beginning, Alamiah Building Company has concerned to provide the necessary financial & technical requirements that enable to fabric the GRC based on the international standard & the most updated methods, to yield the construction field, a very high quality product, flexible & suitable to many decorative & architectural choices.

In this way, the Company has participated in many significant projects which has been required to supply the GRC products in many shapes & design for different utilization, such as GRC wall cladding, sun shade, screens, cornices, false ceiling…etc. with Islamic design, which is suitable to the general characteristic of Kuwait.

The most Significant Projects were the Seif Palace/Amiri Diwan, Souk Sharq, the Amiri Diwan Pedestrian Bridge, Sun Breakers and screens for many shops & houses, Co-operative Supermarkets etc.

The GRC factory consists of many sections, namely ;

Carpentry workshop: for preparing the wooden & rubber moulds.

Casting Hall, which is provided with many developed machineries & equipment, for all kinds of casting.

Quality Control: Pursuant to the higher level of skills required for the manufacture of GRC products, and in order to ensure consistency & uniformity in such a production process, an active & efficient Quality Control programme is required. All testing specified are done in our R&D laboratories according to the highest standards of control & technical specifications.