Pre-Cast Factory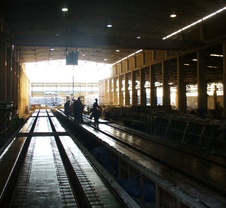 Established since 1976, the Prefab Factory of Alamiah Building Company is one of the major/first factories which had participated in the design, production and construction of the Multistory Car Parks in Kuwait.

Starting with Al-Mutahida Car Parks - Al-Salhia Area and Al Maseel Complex Al-Safat Area, the Company has constructed many significant projects, by developing the design of the prefab system for any type of buildings such as Schools, Hospitals and Health Care Centers, Car Parks, Residential and Commercial Buildings, Stores and Showrooms, Cinemas, Mosques, Libraries, Shopping Malls, Co-operative Supermarkets, Multi Functional Halls, Bridges, Water Tanks etc.

The Company has participated in designing and fabricating many architectural solutions/requirements for all types of buildings, either external or internal by supplying some decorative concrete products, white or colored and glass fiber reinforced concrete GRC & GRG.

Features :

The Prefab Factory of Alamiah Building Company has been built on a landscape area of 50,000 sq.m, consisting of six (6) Production Halls.

Two (2) Computerized Batching Plants to prepare high quality concrete, to be used in all kinds of casting.

A Steel Reinforcement & Metal Fabrication Workshop, which is equipped with all accessories & machines, required for production of moulds, fixings and other metal fabrications, in addition to complete steel structures.

Two Halls for casting double 'T' slabs (TT) with a production capacity upto 720 m2/day.

A hall to produce the pre-stressed beams in variable sections with a production capacity upto 150 linear meter per day, produce the normal & pre-stressed corbels in various sections & lengths, and produce the precast columns in variable sections & lengths.

A hall for producing the solid or ribbed slabs with variable thickness and sizes.

A hall to produce the precast walls and precast load bearing walls, in various dimensions with a production capacity upto 400 m2/day.

All the products in the factory are treated with steam after 3-4 hours from the casting, demoulded within the next day, and made ready for erection at the sites.