Brief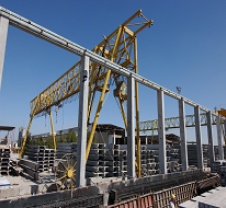 Alamiah Building Company has its own factories located at Amghara in Kuwait, as follows:-

Precast / Pre-stressed Concrete Plant (Production of Columns, Pre-stressed Beams, Stairs, Solid Walls, Wall Panels, Precast Cladding, Boundary Wall, Full Precast Building System, Sandwich Walls).

Hollow Core Slabs Plant (Prestressed Hollow Core Slabs thickness of 150 to 320mm)

GFRC Plant & Gypsum Block Plant

Our quality products and services are driven by ISO standard. We provide a full range of services including design, re-design, value engineering, manufacturing, installation covering all type of precast building that include precast structures for high rise buildings, total super structure wall system for low rise buildings, car parking buildings, industrial sheds, villas, complex, schools etc.
Download
Brochure